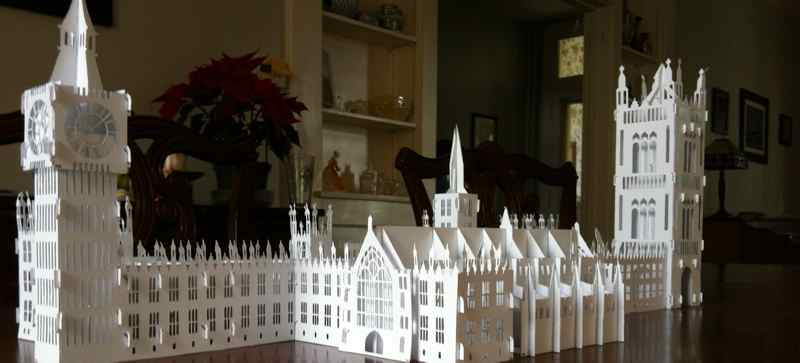 William finished his latest paper architecture project today, Westminster Palace, complete with Big Ben and all. William loves doing stuff like this. When he gets home from school he runs down to the basement and sits at his little stretch of bench space that I have given him and will work for hours on end cutting paper. He started this one on the day after Christmas. We didn't keep track of the total hours he spent on it but it was a lot, especially for a 12 year old.
He goes through zillions of x-acto knife blades. So much so that it is more economical if I sharpen the them with a wet stone than to buy new ones. He is pretty particular about the blades however. If I don't get the points sharpen just right he will send them back to me. I have to do the sharpening under my microscope to make sure I get the tips of the blades just right. Other than sharpening the blades, I do nothing on these projects. William prints the plans, cuts out the pecies and then figures out how it all fits together. The projects are fairly complecated but he does the entire thing on his own.
Its nice having him down in the basement (aka the ManCave) with me. Most evenings he will be working on his paper stuff while I work on my paintings. He has decided to give this one to Lucky Aunt Teri. If anyone else want one of his works just ask nicely and he may grant your wish. See more photos of Westninster Palace here.